2021 Copperleaf AIPM Forum in Brussels—A Fantastic In-person Event!
After nearly two years of virtual events, the Copperleaf® team in Central Europe was excited to host the 2021 Asset Investment Planning & Management (AIPM) Forum in person on November 16th, in Brussels. The Forum connected thought leaders in the asset management and investment planning space from water, gas, electricity, and transport companies in Belgium and the Netherlands.
Knowledge is Power. Knowledge Shared is Power Multiplied.
Hosted in collaboration with Capgemini, the Forum featured case studies from Elia, Belgium's high-voltage transmission system operator; and Enexis, an energy distribution network operator in the Netherlands.
Dimitri Coletti, Portfolio Analyst at Elia, presented an overview of the company's operating environment, including the challenges brought on by the energy transition. Dimitri provided an in-depth look at Elia's portfolio planning in the past, and how the process and business outcomes have improved since implementing the Copperleaf Decision Analytics Solution. He explained how Elia is now able to run advanced scenario and sensitivity analyses while considering multiple constraints at the same time.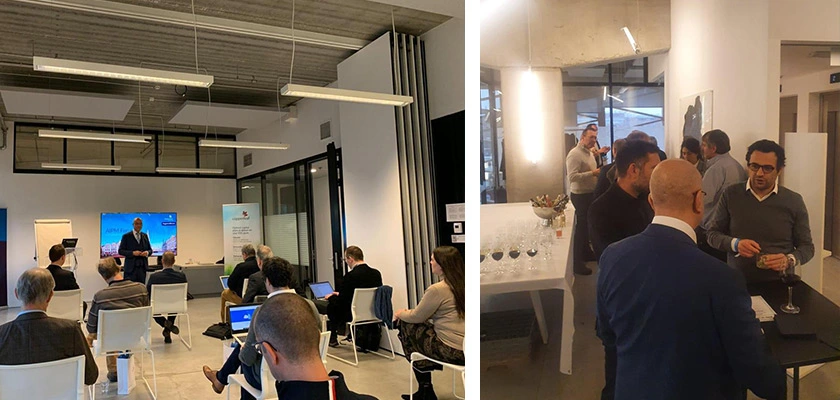 I enjoyed the AIPM Forum in Brussels. It was a great opportunity to connect with people. The dynamic format ensured that we had enough time during presentations and breaks to share thoughts on the challenges we all face, which was interesting and instructive!

Dimitri Coletti
Portfolio Analyst
Elia
Fin Jennrich, Regional Lead in Central Europe for Copperleaf, presented a case study on behalf of Enexis highlighting the company's AIPM journey thus far. He shared some of Enexis' key improvement goals and benefit areas, including having one line of sight to support data-driven decision making, and being able to easily and quickly generate scenarios based on changing performance requirements and resource availability.
Water Industry Insights
Common challenges for companies managing critical infrastructure in the water sector include the effects of climate change, ageing infrastructure, and the limitations of spreadsheet-based planning. Several water companies in Belgium joined the Forum to learn more about Copperleaf's work in the water industry.
Ludo Niepce, Project Manager at Copperleaf in Europe, Middle East, and Africa (EMEA), demonstrated the different approaches to AIPM in the UK water sector, highlighting examples and insights from Anglian Water, Northumbrian Water, and Affinity Water.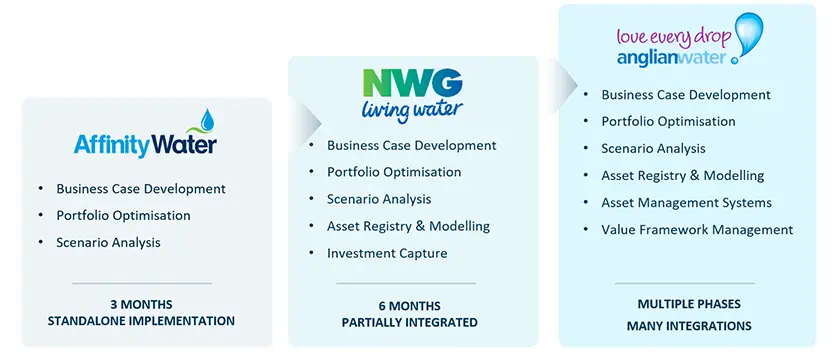 AIPM use cases in the UK
Adopting Systems Thinking in Asset Management
As economies and sectors become more interconnected, many companies are shifting towards systems thinking—a holistic approach to how systems are interrelated and work within the context of larger systems. This approach allows better assessment and management of investment portfolios for infrastructure companies. Benjamin Dawes, Senior Director Energy and Utilities at Capgemini, explained how systems thinking can be incorporated into asset management practices to improve how organisations assess and manage their investment portfolios.
Planning the Energy Transition
The Forum wrapped up with a panel discussion on the impact of the energy transition on the nature and regulation of the European energy system. Panelists discussed how organisations can transform their AIPM processes to overcome challenges and take advantage of emerging opportunities.
It's a great testament to the Copperleaf Experience that our clients are excited to advocate the value of working with Copperleaf to their peers in the energy and water sectors across Belgium. The event provided interactive sessions in an open forum and was a wonderful success.

Karim Jawad
Regional Sales Manager
Copperleaf
Watch Dimitri Coletti, Karim Jawad, and Fin Jennrich share their thoughts on the event:
The next AIPM forum in Central Europe will be hosted in Hamburg in 2022. Stay tuned for details!