$50M for Better DOT Decisions: the IIJA's Prioritization Process Pilot Program
The IIJA – A Bill Becomes a Law
On November 15, 2021, the Infrastructure Investment and Jobs Act (IIJA), also known as the Bipartisan Infrastructure Law (BIL), was signed into US law. The law allocates $1.2 trillion to achieve an ambitious list of goals, including:
Repair and rebuild deteriorating infrastructure
Enhance environmental stewardship through a national EV charging network, wildlife crossings, and carbon reduction initiatives
Build resiliency against extreme weather events
Improve safety and equity for all users
More Money, More Problems
The money is starting to flow—so time to celebrate and get to spending, right? Not quite. This flood of funding—targeting so many different goals—will pose new challenges for transportation agencies, including how to:
Objectively compare the value of projects that deliver different types of benefits (safety, resilience, environmental stewardship, condition, etc.)
Optimally allocate funding and resources towards projects that deliver the most value
Develop plans that are both executable and meet performance measures
Transparently communicate decisions to stakeholders and the public
Anticipating these challenges, lawmakers have set aside funding for transportation organizations to implement more transparent decision making. Enter Section 11204 of the IIJA.
The Prioritization Process Pilot Program (Sec. 11204)
One of the competitive grants in the law, Section 11204 of the IIJA, is called the Prioritization Process Pilot Program (try saying that five times fast). The grants in Sec. 11204 are for "eligible entities" to develop and implement a data-driven, publicly accessible, transparent prioritization process for the selection of projects for inclusion in transportation plans such as statewide transportation improvement programs (STIP). Eligible entities include States (DOTs) and Metropolitan Planning Organizations (MPOs). The program sets aside $50 million over FY22-26 for grants of up to $2 million. It's real money, earmarked to address the serious challenges associated with selecting transportation projects.
How Copperleaf Can Help
The scope of this prioritization and project selection challenge is considerable. Many DOTs and MPOs might be tempted to—or already have—put in place a spreadsheet-based or homegrown approach. But creating a solution that acknowledges and tames the complexities of decision making is no easy task.
Copperleaf has been working at the forefront of investment planning and decision making for more than 20 years. Our approach is directly aligned with the requirements set forth in the Prioritization Process Pilot Program grant. Our decision analytics solutions empower organizations managing critical infrastructure to identify the optimal combination of projects and timing that meet all constraints and targets and deliver the highest overall value. We enable organizations to easily communicate and defend their project selection decisions by providing a transparent, data-driven framework to compare all competing project requests on a common economic scale.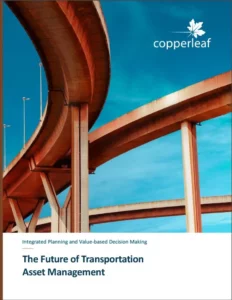 Get in touch to see how you can squeeze the most value out of your investment plans with help from Copperleaf.
In the meantime, read about our work with National Highways in the UK, or download our white paper to learn more about the future of transportation asset management at DOTs.