Copperleaf Community Comes Together at the 2022 Americas Summit…In Person!
For the first time since May 2019, the Copperleaf® Summit was hosted in-person for our clients in the Americas. Over the course of two days, 80 clients and partners gathered in our hometown of beautiful Vancouver, Canada. The Community engaged in knowledge sharing, networking, and perhaps most importantly, some much-needed face-to-face interaction with peers!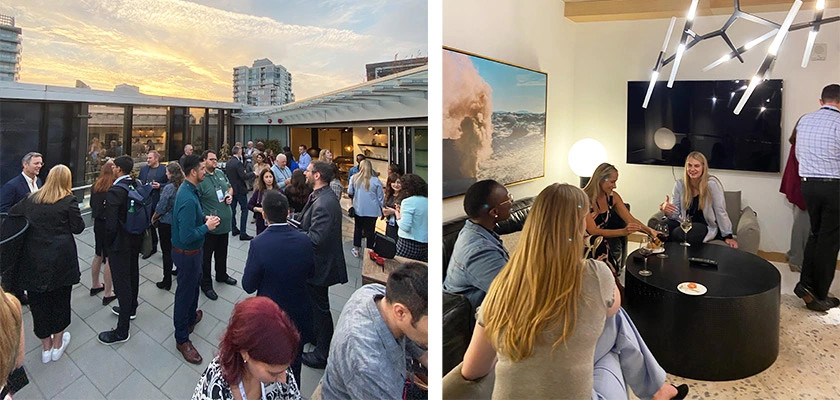 Clients socialize at the Women in Asset Management & Capital Planning event, an intimate evening of dinner, drinks, and networking 
During the Summit, Copperleaf subject matter experts shared state-of-the-art usage of our products, demonstrated newly launched features, and led productive discussions on pressing topics such as vegetation management, grid resilience, and Environmental, Social, and Governance (ESG).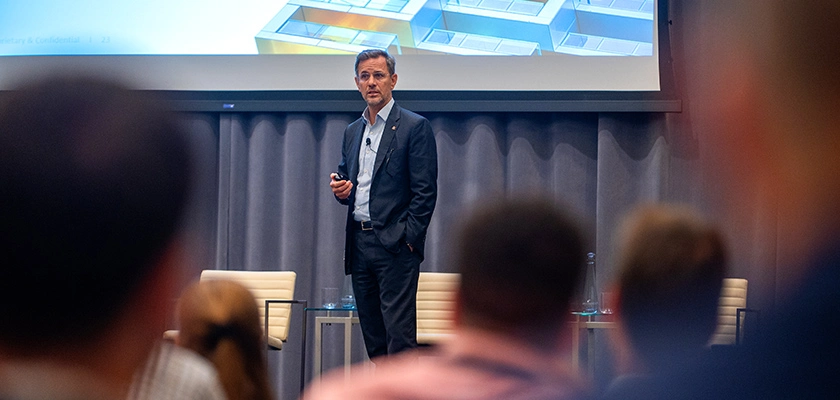 Copperleaf President, Paul Sakrzewski, welcomes clients during the Summit keynote address 
The most impactful element of any Copperleaf Summit, though, is having our clients share their insights and experiences with the Community. Throughout the event, representatives from Duke Energy, Alectra Utilities, National Grid, Enbridge, and AES had a chance to discuss the business benefits and process improvements they've realized using Copperleaf's solutions.
Overall, I found the Summit to be incredibly valuable. It got me excited for the future of Copperleaf and for the future of my organization's ability to use it to provide value to our business.

Josh Zeter
Supervising Engineer, Asset Management
Ameren Illinois
Highlights from the 2022 Americas Summit include:
Case Study: From Siloes to Seamless—How National Grid Transformed Capital Work Planning
In this session, David Smith, Vice President at National Grid US, gave the audience insight into an innovative business case his team developed for integrated T&D planning. He also shared how National Grid, with Copperleaf and Boston Consulting Group, was able to transform its highly manual and siloed capital work planning into an end-to-end data-driven process to deliver improved business outcomes, such as realizing a CapEx efficiency of +11%. Learn more about this specific case study here.
Panel Discussion: From Aspirational to Operational—Meeting ESG, Net-zero and Business Goals
In this panel discussion, client representatives Tom Wasik, VP of Asset Management at Alectra Utilities, and David Smith joined industry experts from Copperleaf, PwC, and Guidehouse, to share how Copperleaf is enabling organizations to turn ESG, net-zero and other business objectives into operational plans. Panelists explored how businesses with ambitious commitments can expand their definition of value, embed that expanded definition of value into decision-making processes, and demonstrate the highest-value plan to all internal and external stakeholders.
ESG Roundtables: Grid Resilience for Storm Management / Wildfire Risk Mitigation
In these hands-on roundtable sessions, Copperleaf led interactive discussions with participants on the topics of storm management and wildfire risk mitigation. Brief presentations to set the stage were followed by audience participation, where clients collaborated with one another and discussed challenges, ideas, and best practices with their peers.
Celebrating Client Success
The Copperleaf Community "Innovator of the Year" Award celebrates the most unique and outstanding things our clients are doing with the Copperleaf solution. This year's Summit showcased National Grid, American Electric Power, and Ontario Power Generation (OPG) as the three finalists and attendees voted live to crown OPG the 2022 award winner for its Lifecycle and Predictive Analytics project!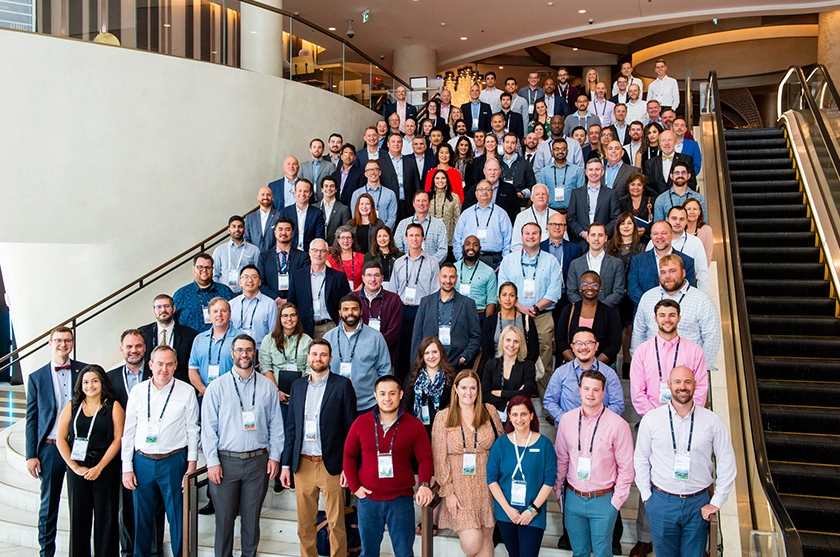 The Copperleaf Community at the 2022 Americas Summit 
Through the hard work of the Copperleaf Community Advisory Board and the Copperleaf team, the 2022 Americas Summit was a huge success. Special thanks to all our clients who took the stage to share their unique stories with the Community. We can't wait to see what's in store for next year!
---
Want to learn more? Subscribe to our newsletter to learn about upcoming events, webinars, and other opportunities to hear from our clients.