Employee Feature: Q&A with Paul Carter, Practice Lead, Predictive Analytics & Asset Modeling
Meet Paul Carter, one of the practice leads on the Customer Experience (CX) team at Copperleaf™. Paul sat down with us to provide some insight into his current role, how his professional journey led him to Copperleaf, his experience working here, and how his skill set has grown during his time at Copperleaf.
Can you tell us a little bit about yourself and your role at Copperleaf? What is the focus of your team?
I started out as a Senior Consultant and Project Manager for two years before taking on the role of Practice Lead. My team focuses on predictive analytics and assets, and this is also my area of expertise. I lead a team of consultants with subject matter expertise in asset degradation modeling and predictive analytics.
Every customer is unique and every engagement has its own set of technical and business constraints. My team works with customers to overcome the challenge of distilling their asset data and leveraging it for decision making. The output of the Copperleaf C55™ Predictive Analytics solution allows customers to make informed, strategic decisions, and align asset replacement programs to business value by identifying priority assets for intervention based on condition-driven risks and benefits.
Can you tell us a little bit about your professional journey that has led you to Copperleaf?
I worked as a structural engineer for four years before getting disenchanted with the inertia of the industry. After going back to school to get an MBA, I was looking to pivot my career. The experience I had gained from forming a tech start-up at school helped provide me with the tools I needed to be successful at Copperleaf. The web-platform development and SaaS implementation work I did were directly applicable to working as a Senior Consultant.
How did you find the transition into this industry and how was your training and growth supported when you first joined the company?
As mentioned previously, my technical engineering background combined with an MBA gave me the tools I needed to transition into this role. That isn't to say there wasn't a steep learning curve when I started working for Copperleaf; almost no one has direct experience within our workspace. However, Copperleaf offers in-house training programs which gave me a foundation to build from as I started working on projects.
Hands-on learning is my preferred way to absorb information and Copperleaf provided a good environment for this style—with a supportive culture and patience for mistakes.
How has your skill set grown since you've been at Copperleaf? What are some of the key things you've learned?
That is hard to quantify. My hard skills have certainly improved but I think I have grown my soft skill set by an order of magnitude. Working for a fast-growing company with a start-up culture means that there are ample opportunities to take on additional responsibilities and work on diverse projects.
I've had the chance to work with a wide range of organizations from different industries, which has been really interesting. Being exposed to remarkably dissimilar business and decision-making processes has provided me with experience I can then apply to every new engagement. For me, helping customers implement change management has also been a new area of work. I find this work challenging and love the fact that no two projects are the same.
What are some of the projects you've been working on?
I've worked with the Tennessee Valley Authority (TVA) on quite a few implementation projects. I helped the transmission and power supply group with its initial implementation of C55, and later use of the Predictive Analytics module, and am currently working with the nuclear line of business. Other customers I have worked with include Hydro One, Chubu, Alectra, and Xcel Energy.
What have you found to be the most unique aspect of working at Copperleaf?
The culture. Coming from engineering, I always thought of culture as window dressing that didn't trickle down to the people who work for the company. At Copperleaf, the culture is embodied by our leadership team and is felt at every level of the company. It is a big part of the Copperleaf experience. And it's also a lot of fun!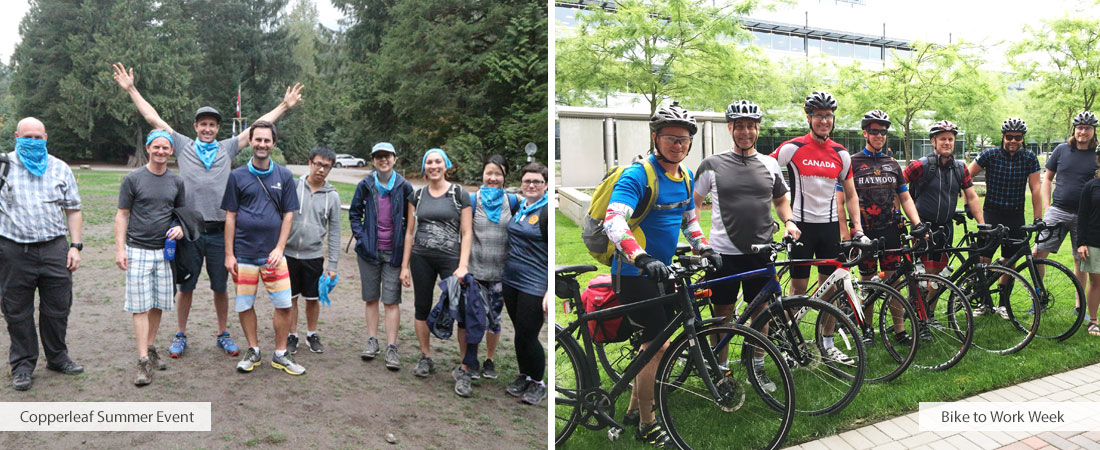 What do you feel is the most fulfilling part of the job?
The improvement in decision making we can deliver to our customers. When you compare how our customers made decisions prior to implementing C55 to what they are doing now it is really amazing. I feel that we are really making a huge impact.
---
As one of the fastest-growing software companies in Canada, Copperleaf is always looking for talented individuals to join our team! Check out our current job openings here.