How do you really feel? Exploring the essence of the Copperleaf Experience
At Copperleaf, we're in the business of pragmatic decision-making. We help our clients distill thousands of data points and complex variables to determine the most logical, economically viable, well-informed, value-driven solutions to the challenges their organizations are facing. It's an approach rooted in objectivity—one that generates confidence because it replaces intuition with factual assessment, eliminates guesswork, and gives our clients the ability to effectively compare apples to oranges to zebras, so they can make the right decisions at the right time to maximize value for their organizations—and spend no more or less than they need to.
So why, you might ask, am I blogging about feelings? They're squishy, subjective, and often messy. Well, in the words of the inimitable Maya Angelou:
People will forget what you said, people will forget what you did, but people will never forget how you made them feel.
At Copperleaf, we are striving to build an organization that makes our clients feel differently about critical decision-making because of the experience they have with us. And we're doing it by not being just another software vendor. Working with us feels different because it is different. It's the Copperleaf Experience.
Like many of you, we got a bit introspective during the pandemic this year, so we took some time to articulate what the Copperleaf Experience is all about. It's true that what we do is provide enterprise decision analytics software solutions to companies managing critical infrastructure. And how we do it is by leveraging operational and financial data to empower our clients to make investment decisions that deliver the highest business value. But we believe what sets us apart is our commitment to providing extraordinary experiences, shaped by people who care deeply, products that deliver exceptional value, and partnerships that stand the test of time.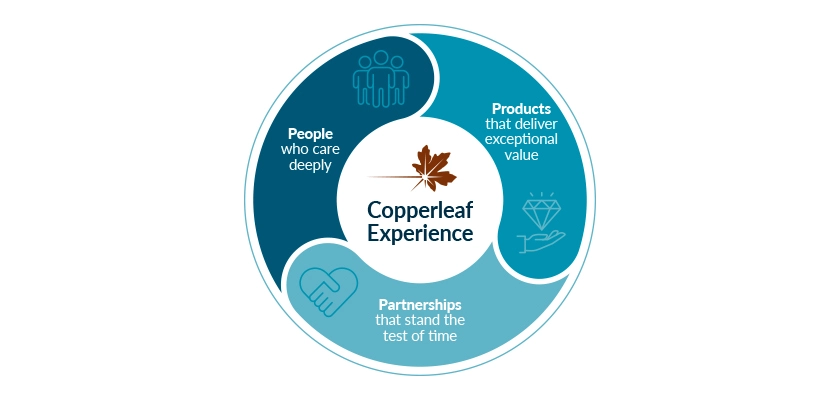 People who care deeply
Our entire team is focused on client success. I know this because we hold people accountable to this each and every day. Not only are we 100% committed to the value-based decision-making challenge (with smart people working on it for 20+ years), but we know how important it is to listen, learn, and tailor solutions to meet our clients' real-world needs—adapting to change as we go. And if we mess up, we fix it—because we care deeply. We hire people who can truly embrace our culture, which includes a belief in the power of joy and having fun and delivering beyond expectations. We strive to deliver on this every day. Our clients talk about this too!
Products that deliver exceptional value
We're focused on making our software solutions intuitive and easy to use. While this is hard work, our objective is to drive the entire industry forward, fueled by the largest R&D team in the sector and passionate clients as our co-collaborators. In fact, this month we are introducing Copperleaf Labs, a new way for clients to collaborate with our software development team to help shape our solutions. When things change around us, as we've seen this year, we are helping our clients be agile through rapid scenario planning—all in the interest of optimizing value to their organizations.
Partnerships that stand the test of time
Our clients' success is our success, period. To get there, we strive to function as an extension of their teams. Some say it feels like being part of a family, and I often warn clients that it might be hard to get rid of us. While that may sound a bit crazy, we're always trying to build lasting relationships. Our clients have stayed with us—some for more than 10 years already—because we have provided a unique Copperleaf Experience. We've built a strong global community and think it's critical to provide opportunities for our clients to network, share knowledge, and learn from each other, so they can bring best practices back to their organizations and drive their industries forward. We're in this for the long term and to help make a difference.
How Copperleaf team members think, act, and interact every single day drives the kind of experience our clients have as they work with us. And every day matters. Together, we are calling out experience as an important human element in our world-leading product and service offering. Together, we are transforming how the world sees value.
I'd love to hear how you feel about this topic. Please reach out with any comments, suggestions, or input on the Copperleaf Experience!
---
Check out more thought leadership articles in our CEO Blog.