Innovation @ Copperleaf: Russ Stothers on the Launch of Cost Estimation
We sat down with Russ Stothers, Product Manager, Copperleaf Portfolio, about the launch of Cost Estimation, the latest innovation in the Copperleaf® Decision Analytics Solution.
Q: Can you tell us a bit about Cost Estimation?
"Cost Estimation is an option for Copperleaf Portfolio™ that enables organizations to quickly create standardized, comprehensive, and defensible budgetary estimates. By leveraging either unit cost models or a centralized set of parameterized cost models, Cost Estimation produces an estimate that includes capital costs, operating & maintenance costs, and resource demands such as project management hours and labor hours."
Q: Where does Cost Estimation fit in the standard project lifecycle?
"Our clients typically have projects with three major stages:
Idea: you need a simple cost estimate (often known as a Class 5 or 4 estimate) to see if the project is worth exploring further
Planning: you need a cost estimate that is accurate enough to justify budgetary approval. This is typically a Class 4 or Class 3 estimate
Execution: you need a detailed estimate to track project costs, usually referred to as a Class 2 or 1 estimate. It is common to use a bottom-up approach to calculate this detailed estimate
Organizations often struggle to produce good quality budgetary estimates in the idea and planning stages. They typically have to make a trade-off decision between accuracy and effort. Given that the project scope may change after these stages, it doesn't make sense to spend a lot of effort at this stage. However, there's also reluctance to approve project budgets if the estimate isn't refined. Cost Estimation is designed for investment planners that need an accurate estimate during the idea and planning stages."
Q: What is a cost model?
"A cost model is a representation of the costs for a particular asset type. The simplest type is known as a unit cost model, which as the name implies, calculates the costs on a per unit basis such as dollars per meter of cable. You can also have a parameterized cost model, which takes one or more input parameters and uses a decision tree to select a formula to be executed."
Q: What if I don't have any cost models?
"Copperleaf will work with you to build cost models based on your historical data. It isn't necessary to have a robust set of complicated models from the get-go. Clients can achieve great results by starting with a core set of simple cost models for the most common type of projects they estimate. Cost Estimation is a continuous improvement process, so over time you can identify opportunities to improve your data collection and enhance your cost models with the latest project actuals."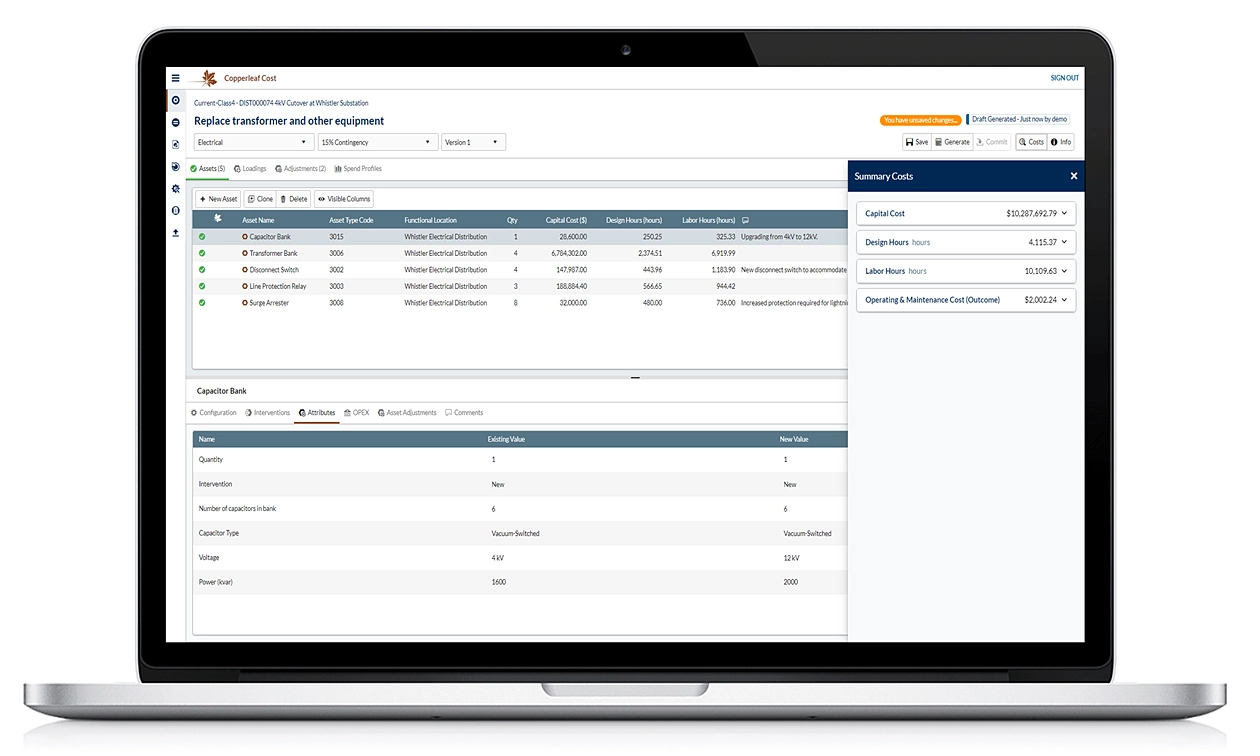 Q: What are the advantages of using Cost Estimation vs. a separate application?
"Cost Estimation is part of Copperleaf Portfolio, which offers several key advantages:
It's integrated with the portfolio planning process, which means you can track your project details and estimates in a single location as they advances from planning through to execution, and then see a rolled-up view at the portfolio level
It's tightly integrated with Copperleaf Portfolio's innate workflows and your scope change process, making it easy to manage and track changes to your estimates
It's seamlessly integrated with the enterprise asset management system. When creating an estimate, you can pull in assets that are impacted by your project, along with their attributes that are needed by the cost model. This makes it extremely easy to estimate the costs of replacing existing equipment"
Q: Who will benefit from this module?
"It's designed for organizations that perform many similar types of investments. When you do the same types of projects, you tend to have a good idea about the underlying costs which makes it easy to create accurate, consistent, and robust cost models. This means that Cost Estimation is highly applicable to clients in asset-intensive industries (e.g. electricity, oil and gas, and water)."
Q: What does a typical estimate include?
"At a high level, the estimate includes four parts:
 Assets: either existing assets in Copperleaf Portfolio that require an intervention or brand new assets
 Loadings: project specific modifiers (e.g.  working in a remote area will likely incur additional costs)
Adjustments: manual modifiers to the estimate
Spend Profiles: distribution of the costs over the project duration (e.g. 80% in year 1, 20% in year 2)"
Q: Can you tell us about the Cost Estimation team?
"We are a small cross-functional team of about 8 people that spans development, quality assurance, design, and product management! The team formed in early 2016 to support the development of Cost Estimation in partnership with our client Anglian Water in the UK. We have been working on iterating and improving this capability since then."
Q: Can you share some success stories from your work with Anglian Water? 
"Anglian Water was heavily involved during the design of Cost Estimation. We were able to understand their workflows, propose a design, and iterate based on their feedback. In addition, they participated in beta testing and were able to suggest great improvements to the user interface.
Cost Estimation had significant performance improvements compared to their legacy system. Before, it took Anglian Water over 3 weeks of 24/7 processing time to calculate the costs of intervening on 300,000 estimates. With Cost Estimation, the same volume can be calculated in less than 12 hours. This greatly improved Anglian's ability to model different scenarios under tight timelines for PR19."
Q: What's next for the option?
"Since it's a new offering, we are very eager to talk to existing clients and prospects to learn more about their cost estimating challenges and provide a demonstration of how Cost Estimation can help. At Copperleaf, our mission is to develop products that solve problems and maximize value for our clients, so it's really critical to have these conversations and gather input so that we can continue to innovate and improve our offerings."
Watch this video to learn more about Cost Estimation. Marilena Demetriadi and Marina Pomba from Anglian Water share their experience on the implementation and highlight the benefits:
---
Please reach out to us directly to learn more. To discover more about our solutions, please visit this page.