Interview: Q&A on the Go Live of Copperleaf at Enexis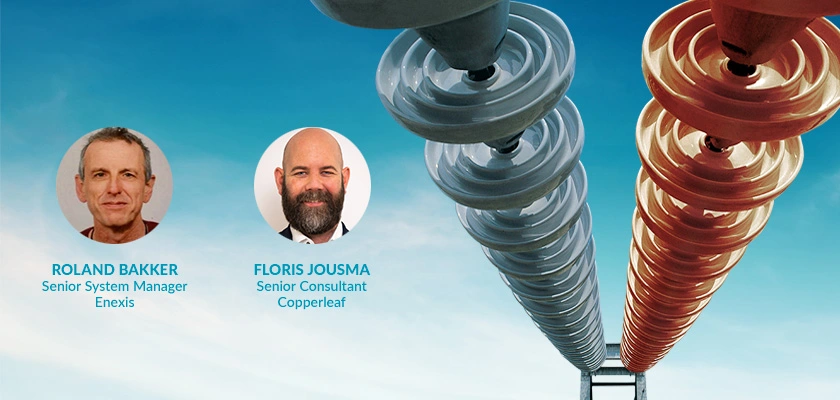 Enexis Groep recently went live with the Copperleaf® Decision Analytics Solution. Roland Bakker, Senior System Manager at Enexis, and Floris Jousma, Senior Consultant at Copperleaf, share their thoughts on how the Copperleaf solution will help the distribution network operator optimise its portfolio planning process.
Can you tell us a bit more about Enexis?
Roland: "Enexis is one of the three largest distribution system operators (DSOs) in the Netherlands, responsible for the construction, management, and maintenance of the gas and electricity network in the North and South-East of the country. Our electric grid comprises approximately 146,000 km of cable and 55,000 stations, while the gas network consists of more than 46,000 km of pipeline and 6,600 stations. In total, Enexis serves around 5.2 million customers and invests approximately €1 billion annually."
Can you tell us about the role you played in this project?
Floris: "As a senior consultant, my role in the project was first and foremost to advise Enexis on how to implement Copperleaf Portfolio™ to best meet its needs. The initial phase focused on delivering immediate value by getting the Copperleaf solution up and running quickly to enhance its Asset Investment Planning (AIP) processes. Enexis successfully went live in February 2022. I'm now involved in the second phase which involves analysing integration requirements with other enterprise applications, such as SAP."
What did your asset management process look like before implementing Copperleaf?
Roland: "Prior to implementing the Copperleaf solution, the strategic and tactical planning processes were completed independently of each other, resulting in inconsistencies between our strategic and tactical plans. The IT support of the strategic and tactical planning process was fragmented and partly 'end of life' and we also relied heavily on partial spreadsheet solutions in Excel. As a result, the preparation of our strategic and tactical asset management plans took a lot of time and we were unable to adapt our plans quickly in the event of external changes and internal developments. In addition, only a small number of our investments were aligned to our company values."
What were the main goals for this project?
Roland: "The aim was to deliver a robust and professional system to support our strategic and tactical planning process for investments in our assets and grids. The Copperleaf solution gives us integrated insight into the entire investment portfolio in one system, supporting a structured and repeatable planning process.
Objective and transparent data-driven investment decision making was critical. We wanted our investment portfolio to be optimised against our company values and linked to our strategy, providing a clear line of sight between portfolio planning and company objectives.
We also wanted the flexibility to adjust the investment portfolio and calculate scenarios based on energy market or policy developments, changing performance requirements, and/or limitations in available resources."
Floris: "Like many DSOs, Enexis faces some exciting challenges related to the energy transition, such as supporting more electrification of industry, heating, and transport. The company is also dealing with the dispersed local production of energy from solar, wind, and biogas. All of these changes have a big impact on the grid and put pressure on the available workforce. At the same time, in a market regulated by the Netherlands Authority for Consumers and Markets (ACM), Enexis has a responsibility to continue delivering energy at an affordable price to clients. To manage these aspects better in the near and long term, Enexis realised they needed to improve their AIP processes to ensure they get the most out of every Euro and hour they invest."
What do you think made this project successful?
Roland: "Prior to the procurement process, we conducted a thorough market survey to understand what AIP solutions were available, as well as visits to fellow grid operators. Our asset management team was very involved as 'champions' (subject matters experts) in the project."
Floris: "How well the Enexis and Copperleaf teams worked together! The Enexis project team, including project management, product owners, and key users, brought a lot of experience to the table and were focused on achieving the set goals. As a result of the comprehensive training delivered by Copperleaf, employees felt involved and very comfortable in the transition to a new solution. Overall, it was a very efficient and well-managed implementation."
What are the key benefits you think you'll get out of implementing the Copperleaf solution?
Roland:
"Vital insight into our investment portfolio in a central system that supports a structured and repeatable investment planning process
The ability to make the best possible, objective, data-driven investment decisions, to achieve our company objectives at minimal costs and acceptable risks
The ability to explicitly relate the investment portfolio to strategic goals, company values and policies
Flexibility to adjust investment portfolios and calculate alternative scenarios based on new developments in the energy sector, changing performance requirements, and/or shifting financial and resource constraints."
Floris: "Not only will the Copperleaf solution allow Enexis to ensure investments are aligned with their Business Values and KPIs, the company is now also able to compare different what-if scenarios in a timely manner and make better decisions, resulting in more efficient planning of work and higher value for the business."
Have there been any other benefits?
Roland: "As we worked with Copperleaf to map out our strategic and tactical planning processes, we discovered several areas where we could make concrete adjustments and improvements."
Floris: "The project had a nice impact in terms of how different business units across Enexis are now working together in a more integrated way on investment planning. Business units were brought together at the start of the project to jointly discuss the Business Impact Analysis, giving employees the chance to share their existing business processes and perspectives before implementation."
[Enexis] is now also able to compare different what-if scenarios in a timely manner and make better decisions, resulting in more efficient planning of work and higher value for the business.

Floris Jousma
Senior Consultant
Copperleaf

Is there anything special Enexis is doing with the Copperleaf solution?
Roland: "What is perhaps special is that Enexis will use the Copperleaf product suite to support both the strategic and tactical planning processes and that these plans will be linked to each other."
Floris: "Enexis is our first client to implement Copperleaf's new Unit Cost Models capability. This allows their teams to generate more accurate cost estimates by using a library of standard models to drive consistency in investment planning. This will minimise approval times, provide greater transparency to regulators, and increase project execution success."
How would you describe your experience working with Copperleaf?
Roland: "Copperleaf supports us with expert advice, and the relationship is working well. We particularly appreciate being able to work with Dutch-speaking consultants."
What's next on your asset management journey?
Roland: "After the successful go-live of phase one, we are now working on performing our first planning cycle and integrating the Copperleaf solution with other applications within the Enexis IT landscape, such as SAP PPM."
Floris: "Enexis has identified four of the Global Goals for Sustainable Development (SDGs) as the most important ones to deliver on its strategy and responsibilities, which are 'Affordable and Clean Energy', 'Industry, Innovation and Infrastructure', 'Responsible Consumption and Production', and 'Climate Action'. Together with Enexis, we will investigate how the company can plan to achieve these goals, by further incorporating the SDGs and Environmental, Social & Governance (ESG) commitments into the Copperleaf Value Framework."
---
View our success stories to learn how Copperleaf clients have been able to improve their business outcomes.