Presentations and Paddleboarding at the Copperleaf EMEA Team Meeting in Malaga
In-person meetups are back and the Copperleaf® Europe, Middle East, and Africa (EMEA) team is taking full advantage! Following the success of the Berlin team meeting in March, Copperleafers came together in Malaga, Spain, to connect, share knowledge, and soak up the sun.
As Copperleaf's client base continues to grow, so too do our teams. We now have more than 500 employees worldwide, with over 60 based in EMEA. Our employees work in close proximity to our clients, with team members situated across the UK, France, Spain, the United Arab Emirates, and other countries.
Over the course of three days, the team had the chance to meet up with colleagues old and new. This was a much-needed opportunity to connect with people in different departments, including marketing, sales, and customer experience—and for some it was the first time meeting in-person. Our employees are used to working together remotely, but meeting in real life allows us to share experiences and get to know each other better.
On the first night, the team came together for a delicious meal recommended by local expert and Managing Director of Copperleaf for EMEA, Stefan Sadnicki. We spent the next day sharing our successes and plans for next year, exchanging expertise, and exploring how we embody the Copperleaf culture.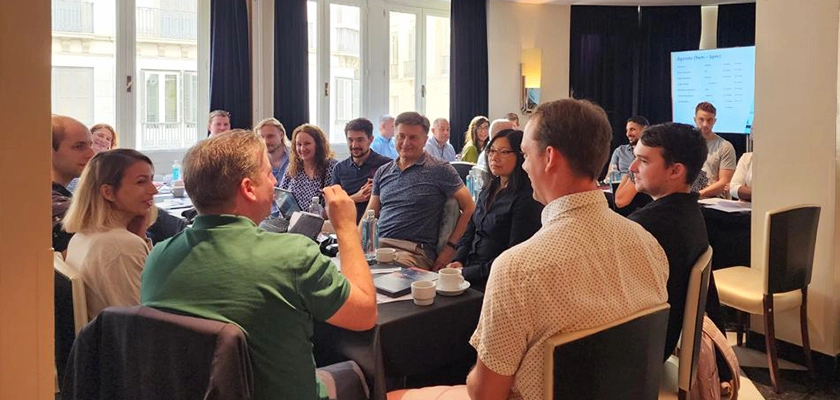 "We had a fantastic time together in Malaga!" said Emma Willson, Human Resources Business Partner at Copperleaf. "'Create Joy' is my favourite of the seven Copperleaf culture tenets, and we definitely lived up to it this week!"
On the last day, it was time to get outside and enjoy some teambuilding activities. Thanks to glorious weather, Copperleafers had a chance to cycle around the historic city of Malaga, unwind with some relaxing yoga, and even try a splash of paddleboarding!
It was a wonderful event that gave the team the chance to connect and spend quality time together. As we continue to grow, I look forward to welcoming even more Copperleafers to the next team meeting.

Stefan Sadnicki
Managing Director
Copperleaf EMEA
To round off another brilliant team meeting, employees were invited to welcome their partners and children for the weekend. This was a special end to a fantastic trip, highlighting the bond we share as a team and the importance of strong working relationships.
Find out more about working for Copperleaf and check out our current job openings here.