Supporting Ukraine Through the Copperleaf RAD Initiative
We are deeply shocked and saddened by the recent events unfolding in Ukraine. We stand in solidarity with the Ukrainian people who have demonstrated extraordinary courage in the face of an unprovoked attack on their homeland. The safety and security of Copperleafers and their loved ones in the region remain our top priority, and we are committed to supporting all those affected by this humanitarian crisis.
In response to the ongoing conflict, our team focused its Random Acts of Delights (RAD) efforts on fundraising for the Canadian Red Cross, which is providing immediate and ongoing relief for people impacted by the war in Ukraine. Organized by Shannon Archambault, Barb Hedges, John Klippenstein, Linda Lupini, and Nick Sertic, we hosted a raffle in support of the fundraiser featuring prizes generously donated by Copperleafers around the world.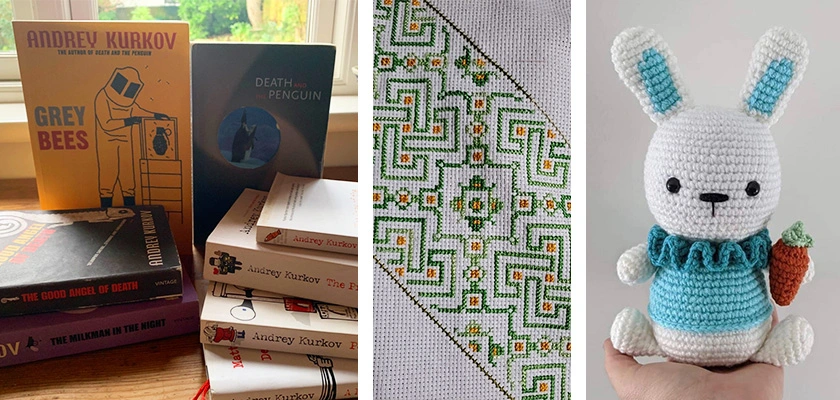 Some of the donated prizes included a selection of books by Ukrainian author Andrey Kurkov, authentic embroidered Ukrainian pieces by V. Stepanyuk (one of our fellow Copperleafer's mothers), and hand-made knit bunnies created by a local Ukrainian artist.
The war has deeply affected all of us here at Copperleaf and we wanted to do our part to support the people of Ukraine. This fundraiser is an incredible testament to what we can achieve when we come together as a community to support those in need.

Linda Lupini
Global VP, Employee Experience
Copperleaf

Collectively, Copperleaf has raised over $30,000 CAD in donations so far. The Red Cross is providing lifesaving aid to those in need and states, "More than two million people have fled Ukraine to nearby countries and an estimated 18 million—a third of the country's population—will need humanitarian assistance. As the fighting intensifies, so does the dire humanitarian situation and needs on the ground."
I'm touched by the generous outpouring of support from our Copperleaf family. My heart goes out to everyone affected by the invasion and we hope for the expeditious restoration of peace in the region.

Judi Hess
CEO
Copperleaf
We encourage everyone to donate to the Red Cross and other nonprofit organizations providing urgent humanitarian aid in Ukraine and surrounding countries.
---
The Copperleaf RAD initiative allows our people to get involved and support causes close to our hearts. Learn more about the program here.