UK's IPA Guidelines Made Easy with Copperleaf's Cost Estimation Solution
The Infrastructure and Projects Authority (IPA) of the United Kingdom recently unveiled ambitious plans to "transform the way infrastructure projects are selected, procured and delivered." As part of a series of new best practices guidelines, the IPA released new direction on what cost estimation should look like.
The IPA provides a clear 8 step framework for the cost estimating process. While these new guidelines are an excellent step-change towards an ideal project delivery process, leading organisations are looking for ways to implement the new cost estimation framework without overburdening their capital planning teams. This article will walk through the IPA's framework and highlight how the Copperleaf® Decision Analytics Solution can support each step in the process.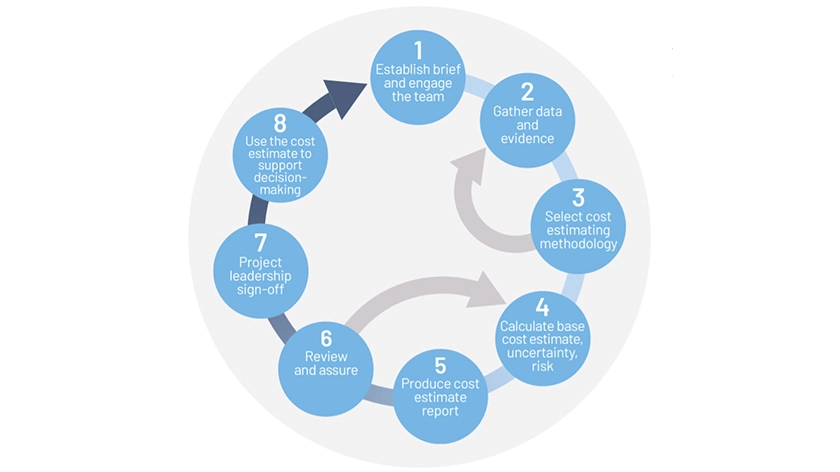 Summary diagram of IPA cost estimation guidelines
Step 1: Establish brief and engage the team
The first step focuses on writing an effective business case with the right technical team. While a simple enough step on paper, business case writing is a process fraught with subject matter expert biases. Once the brief is written, it can be time consuming to gather the team required for approvals.
Copperleaf Portfolio™ not only expedites this process, but also brings transparency and rigour to business case writing through its standardised investment entry process. This creates economies of scale for investment entry, empowering your capital planners to spend their time on more valuable activities.
Step 2: Gather data and evidence
Gathering the data necessary for writing a business case can be just as challenging, requiring capital planners to gather information from a diverse range of systems and people across the organisation.
One of the key IPA recommendations is to establish a standardised structure for data gathering and reporting. Copperleaf Portfolio integrates with an organisation's reporting systems, ensuring capital planners have access to the data they need at their fingertips at all times. Copperleaf Portfolio also standardises and simplifies the process of business case creation, review, and approval by configuring these processes to align with your organisation's unique business needs.
Step 3: Select cost estimating methodology
While the IPA weighs the pros and cons of different methodologies, the analysis points to leveraging a deterministic, top-down, parametric cost estimating methodology that is validated by expert opinion and improved over time with project actuals. This methodology is built into Cost Estimation, an option for Copperleaf Portfolio. Find out how this solution is helping Anglian Water, one of the UK's largest water companies, quickly and easily create consistent, standardised, and defensible cost estimates.
Step 4: Calculate base estimate, uncertainty, risk & opportunity
This step is where the IPA devotes the lion's share of attention. The IPA's guidance is an important step forward in standardising how cost estimates are produced. Their focus is ensuring that cost estimates are calculated holistically considering fixed and variable costs, uncertainty, inflation, risk and upside opportunity.
Copperleaf's Cost Estimation allows infrastructure planners to consider a variety of factors based on parameterised asset-driven models and project complexity factors (e.g. based on site survey of location information).
In addition, Copperleaf's Performance Prediction solution uses Monte Carlo analysis to consider the risk and uncertainty of individual projects on the performance of the overall project portfolio and automatically incorporates this into the decision-making process.
Step 5: Produce cost estimate report
The IPA offers advice on how best to produce a cost estimate report. While these recommendations are robust, the onus to produce these reports is often put on already overworked capital planners. With Copperleaf's solution, a report is automatically generated for each cost estimate, documenting the methodology, assumptions, and evidence on which the estimate was built.
Step 6: Review and assure
The IPA surprisingly devotes little attention to outlining best practices in reviewing and assuring a cost estimate report. This is a vital step in the process, particularly because if there is a stage-gate failure at this step, you loop back to stage 4. What the IPA does address is the importance of having a standardised and thorough review process.
Copperleaf's solution provides a robust audit trail for how each estimate was costed. Built-in workflows make it easy to conduct peer reviews, check data quality, and track the status of each estimate from creation through to approval. Additionally, approvals are automatically routed to the appropriate individuals based on project size or any other internal requirements. Having a consistent and agreed-upon review process ensures that the right people are involved at the right step, which increases trust and results in quicker and more informed decision making.
Step 7: Project leadership sign-off
The purpose of this step is to provide leadership with an opportunity to clarify, challenge, and hopefully approve the cost estimate before it's used for decision making. Effective review and assurance will increase confidence in the accuracy of the cost estimate for all stakeholders, making it easy for leadership to understand how an estimate was developed and improving the likelihood of approvals.
With the built-in workflows in Copperleaf Portfolio, leadership's visibility and approval of cost estimates is fully documented and streamlined within the application. This ensures capital planners can spend less time chasing down email-based approvals and instead focus on building their organisation's future.
Step 8: Use the cost estimate to support decision-making
In many organisations, this step involves significant planning meetings whereby the loudest voices in the room end up receiving the majority of capital funds. The IPA offers guidance on how to remove bias from the process of creating cost estimates, which is an important consideration. However, even more important is having a consistent and transparent process to select the projects that will deliver the highest value and support organizational objectives. A strong cost estimate is not useful if low-value projects are being funded instead of more valuable initiatives.
Copperleaf's AI-enabled optimization allows planners to identify the highest-value projects and create executable plans that consider all constraints, including resources, risk tolerances, timing, project dependencies, etc. Sensitivity analyses can easily be performed to explore various strategies and accelerate the decision-making process.
Looking Forward
Copperleaf strongly supports the IPA in advancing this pivotal component of effective capital planning, but we challenge the IPA to go one step further. Crucially missing from the new cost estimation guidelines is the consideration of whole asset lifecycle cost and wider environmental (embedded carbon and water usage) and social costs in project valuation. Without a complete understanding these crucial costs upfront, you cannot effectively model the true value an asset will generate for an organisation, nor can you model the true costs to both your business and society.
Cost Estimation for Copperleaf Portfolio provides insight into the immediate financial and resource implications of installing a new asset, the future costs associated with preventative maintenance, as well as periodic replacements or refurbishments across the entire planning horizon. Copperleaf Portfolio empowers you to make the highest-value decisions for your business.
---
For more information about either the new IPA cost estimation guidelines or Copperleaf's Cost Estimation solution, please contact us today!