Feature Article: Copperleaf Creates 'Extraordinary Experiences'
The companies who made BC's Top 100 Employers list for 2021, selected by Mediacorp, were chosen for their resilience through COVID-19 and their commitment to offering exceptional and progressive workplaces for employees.
Organizations across Canada have all been affected by the pandemic, but the province's best employers have distinguished themselves by innovating quickly to support employees and their communities. Copperleaf® is featured in a special issue of The Globe and Mail, which showcases how the 100 honorees are dedicated to providing exceptional human resources programs and forward-thinking workplace policies throughout COVID and beyond.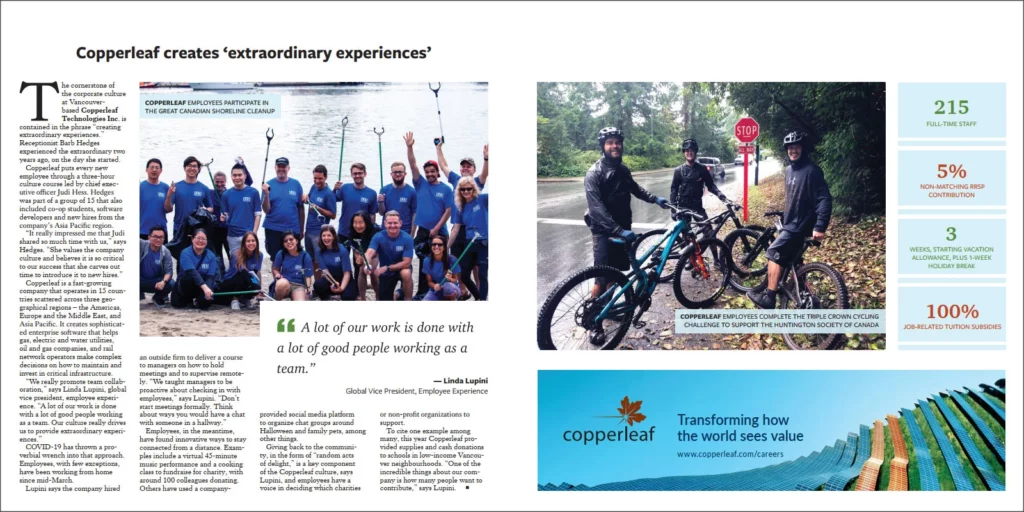 At Copperleaf, cultivating a strong and collaborative culture has always been our top priority. We believe it has enabled us to be resilient and has kept us together at a time when we've been forced to be apart.
We deeply value our people and our culture because they define our company and shape the experiences our clients have with us. In fact, it's so important that Copperleaf puts every new employee through a three-hour culture course led by our CEO, Judi Hess.
It really impressed me that Judi shared so much time with us. She values the company culture and believes it is so critical to our success that she carves out the time to introduce it to new hires.

Barb Hedges
Receptionist, RAD Co-lead
Copperleaf

Giving back to our local communities, in the form of our RAD (Random Acts of Delight) initiative, is another a key component of the Copperleaf culture. During these challenging times, our team fundraised for non-profit organizations such as the Greater Vancouver Food Bank, the North Shore Crisis Services Society, the Vancouver School Board, and the Huntington Society of Canada.
One of the incredible things about our company is how many people want to contribute.

Linda Lupini
Global VP, Employee Experience
Copperleaf

Copperleaf is proud to have been named one of BC's Top Employers for the second consecutive year. We are excited to build on the progress we've made so far and continue to strengthen our culture to help us meet whatever challenges lies ahead.
Read Copperleaf's full special feature article here. To view the full list of winners, please visit canadastop100.com/bc. 
---
We're always seeking talented individuals to join our growing team! Check out our current job openings here.