Feature Article: Copperleaf Wins BC's Top Employers Award
Employees give back and get involved at Copperleaf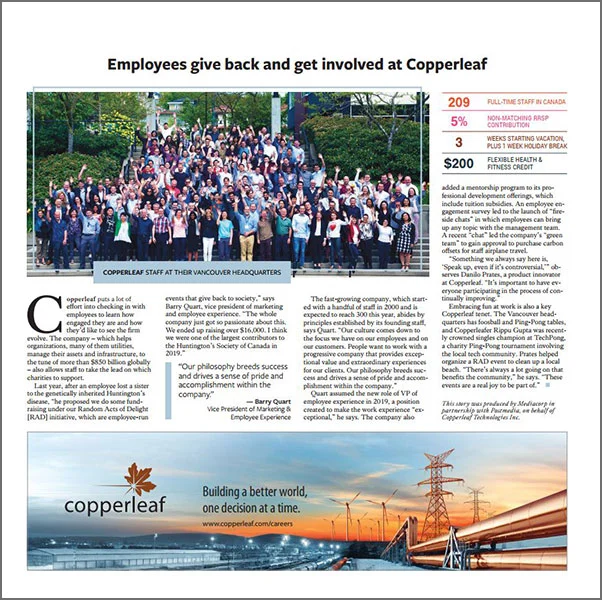 Mediacorp released the winners of its 15th annual BC's Top Employers competition, celebrating companies in British Columbia that lead their industries in offering exceptional places to work.
The special magazine feature in the Vancouver Sun showcases how the 100 honorees are building progressive and forward-thinking workplaces. Employers were evaluated by the editors at Canada's Top 100 Employers using the following criteria:
Physical Workplace
Work Atmosphere & Social
Health
Financial & Family Benefits
Vacation & Time Off
Employee Communications
Performance Management
Training & Skills Development
Community Involvement
This is Copperleaf's first time receiving this award. Judi Hess, Copperleaf CEO, commented:
We are very proud. Our priority is to offer to a positive, inclusive, and rewarding environment for our employees, and it's fantastic to have a third-party evaluation confirm that we're a leader in this area.
At Copperleaf, we believe people are our greatest asset. A strong culture is vital to attract and retain the best people, which ultimately helps us win the market. Barry Quart, VP Marketing & Employee Experience added:
Our philosophy breeds success and drives a sense of pride and accomplishment within the company.
Copperleaf takes the time to listen to employees and values their feedback. We've instituted company-wide fireside chats to co-create a respectful place where any topic can be discussed, with the goal of continuous improvement. For example, a recent 'chat' led to our Green Team gaining approval to purchase carbon offsets for the overall carbon we generate as a company, and we are actively aiming to be carbon neutral this year.
Our culture includes an open and supportive atmosphere where all opinions matter and ideas are encouraged regardless of hierarchy. Danilo Prates, a product innovator for Copperleaf, observed:
Something we always say here is, 'Speak up, even if it's controversial'. It's important to have everyone participating in the process of continually improving.
At Copperleaf, we're always looking to cultivate a culture of innovation and collaboration, and foster an open, empowering environment for all those we work with!
Read more about us on our award profile and on page 27 of the special feature published in the Vancouver Sun. The full list of winners can be viewed here.
---
We're always seeking talented individuals to join our rapidly expanding team! Check out our current job openings here.